Hi Guys & Girls.......We were discussing the basic stuff that New 124 Spider Owners ask us on joining this Merry Band of Enthusiasts, and Friends.....so here is a NON exhaustive list of BASIC stuff ONLY so as not to confuse new owners or folk like myself who still own and use an "Abacus".......
Maybe, instead of explaining all these basics time and time again we could just refer to this thread and say, "There you go Sailor"..........
1/ Fob Batteries- They last up to two years or until you buy your 124 Spider...Can't get into your car, will not start, little key light on dash showing Yellow or Red and you have to try starting by holding LOGO end of fob to START button....
DURACELL 2025 x 1 (forget cheap cr*p)
2/ SOFT TOP...Best advice, even if you live in hot conditions and leave it down...Put it UP every once a week or so to stretch the material so avoid future creasing, cracking, straining when attempting to lock it in up position.
3/ Engine oil (and this subject takes over here)...ONLY USE RECOMMENDED 0w-40 UK, 5w-40 USA FULLY SYNTHETIC ENGINE OIL that conforms to ALL standards ( see "Engine Oil Tech Talk" thread, some good advice there). "The Brick"
4/ CHANGE your ENGINE OIL ANNUALLY....the MultiAir 1.4 engine DOES NOT like old or dirty oil AND WILL let you know about it..........! "The Brick"
5/ CHECK engine oil REGULARLY / WEEKLY......as the MultiAir will not tolerate low engine oil levels and WILL BITE BACK ! "The Brick".
6/ "THE BRICK"......Yes, this is the heart of the above mentioned potential troubles....It is complex, has a variable cam set up that is operated by sensors and said sensors can get blocked easily by dirty oil, then you do have expensive troubles ahead. It also likes regular priming through use NOT TOP UP's. so........
7/ WINTERING YOUR 124 Spider.....NEVER..leave the MultiAir 1.4 engine over winter or for longer than 3 week (approx) period without STARTING and RUNNING it for about 20 minutes or so...To recharge battery as the engine oil drains down from "The Brick" and YOU WILL THEN NOT START the car, so..............should you get caught or have been when you read this caught out....you will need to add 10 oz of Fully Synthetic correct grade oil to "The Brick" before then going through the starting procedure, more than once as it will need to be primed, cough a bit then fire up...
You are looking at and down engine oil filler cap hole to the little hole where the 10 oz of engine oil should be poured...DO NOT OVERFILL ! "THE BRICK" and "THE ENGINE" (Crankcase) do not like it............ONLY EVER ADD that 10oz of engine oil to "The Brick" "if" THE 124 SPIDER has been left without stating it for any length of time. If you are worried about overfill then simply drain some oil off until dipstick is at full mark. Just added from "SteveP" (page 3).....Ref W54265 6 oz Pistol Oiler
8/ CAR BATTERY.........for those only used to sealed units. The 124 Spider battery has 6 little caps, every once in a while undo caps and look into each cell, you should see DISTILLED water level JUST above the plates, keep it that way.
For Replacement Battery...EXIDE EFB 027 (EL 600)34 lb size as OEM with CAA rating of 640 & 3 yr warranty is 2020UK Best Buy. There is a lightweight BRAILLE racing battery and mounting (P4 Brexit Mods) but will not hold charge for daily driving and is US made.
9/ FUEL....Your Spider prefers Premium or 98 grade (UK) and 93 grade USA so should you NOT be using it you may just run into idling issues..or worse. From the USA manual.....
87-90 (so lower grade UK fuel) will reduce performance slightly, engine output,could cause knocking. Lower grade fuel will negatively effect emission control system performance and could cause serious engine damage over time. (Full details Bob T page 2
10/ Lifting / Jacking....Just adding from Forum Member "Magoffin" (Thanks)..THE BEST and Recommended Safest way is to use the Mazda MX5 ND recommended method of jacking from the centre points using extra low Racing Jack 1.5 ton minimum to front, at least, and AXLE STANDS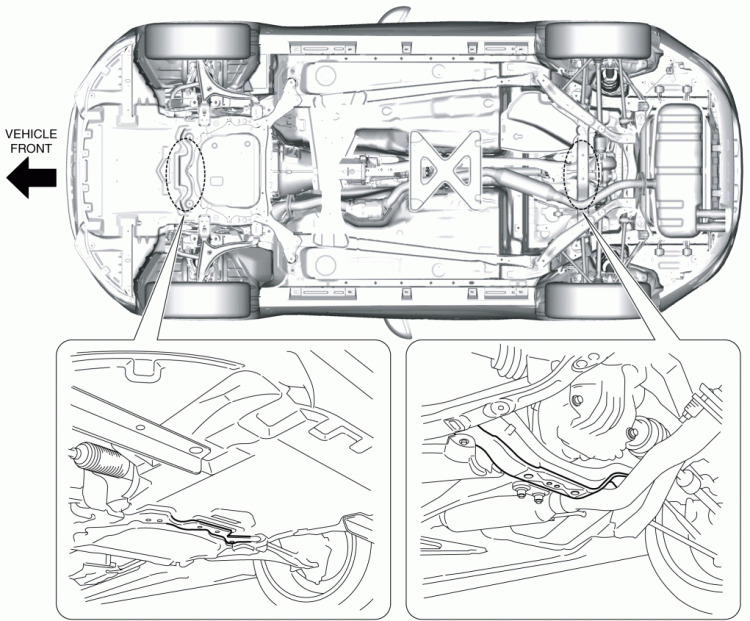 11/ A/C (Air Con)...You should run your A/C every few months all year round as the seals will dry out and leak if not........you can see A/C working by switching on engine no A/C center of compressor will be still...switch on A/C and it spins.......
Translation .......UK USA/Canada
Bonnet - Hood
Boot - Trunk
Soft Top - Roof
Tyre - Tire
Girl - Beautiful !
-----------------------------------------------------------------------------
For "The Lads"....Add to these basic rules with anything else that IS BASIC but will assist our new members by all means, but keep it simple as some folk will struggle with too much / too technical information, like faulty water pump and wastegate actuator symptoms. Right then Folk, over to you..... Cheers
ron