Discussion Starter
·
#1
·
Hi Everyone,
After spending around 4-5 hours online lookup, I finally found the decent priced, perfect sized bag for bottom of the trunk.
And this bag also fills up that 2-3 inches space right behind the rear license plate in the trunk.
Here is the link:
Amazon.com: REDCAMP Heavy Duty Camp Stove Carry Bag, Stove Carry Case For Camping Stove Gas Grill Accessories: Kitchen & Dining
It is $24.99. So, if you wouldn't like to spend a few hundred bucks on set of bags that you might use not more than couple of times per year, this is a go.
I know, this bag is not as great as the "specifically made for our car luggage sets", still does the main job which is filling up that particular space 100%.
I have looked every single listing and read the dimensions under portfolio bags, under bed storage organizers, desktop computer tower carry bags, duffel bags, and all other different categories. Finally came up with this Camping Stove Carry Bag.
The perfect dimensions we were looking for was": 25x20x4 inches. Since the bag is made of canvas, it would easily take the shape of the area where it is put.
Here are the photos I took: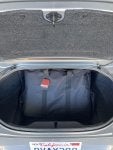 Thank me later
Regards
-john